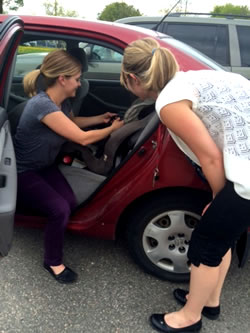 Properly used child seats and booster seats can significantly reduce the chance of children being hurt and/or killed in collisions. This section shows you how to keep your kids as safe as possible in your car, mini-van or pickup truck. Every year in Canada, about 10,000 children (from infants to 12-year olds) are hurt or killed on the roads. The best thing you can do to prevent this from happening, is to make sure your children are always buckled-up properly while in the car, even for short trips. And remember, the back seat is always the safest place for your children.
By law, drivers are responsible for ensuring passengers under 16 years of age are secured properly. It is mandatory for anyone transporting children to make sure they are properly secured in a child car seat, booster seat or seatbelt.
The Three Stages of Car Seats
Tips for Installing Child Car Seats
Choosing the Right Safety Seat for Your Child
Our trained and certified Car Seat Technicians educate the public on current regulations, to select appropriate child car seats or booster seats to fit the child's development based on height and weight, and to provide specific steps necessary to ensure the correct installation of the car seat or booster seat in the vehicle. Technicians stay up-to-date with obtaining recall notices from Transport Canada, and attending specialized training. Car Seat Technicians provide the community with scheduled inspection clinics and emergency car seat installations. Car Seat Clinics are held monthly.