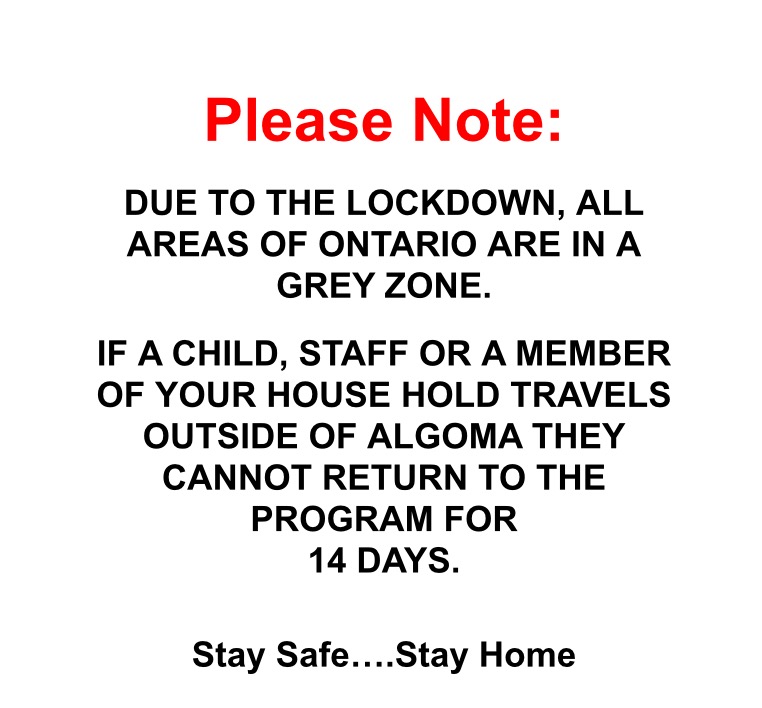 ---
For School-Age Emergency Child Care due to the indefinite school closures, please contact:
District of Sault Ste. Marie Social Services Administration Board – 705-541-7321 – c.childcare@socialservices-ssmd.ca
Algoma District Services Administration Board – 705-842-3370 extension 200 – clientsupport@adsab.on.ca
---
COVID-19 SCREENING TOOLS FOR CHILDREN IN CHILD CARE
UPDATED COVID -19 SAFETY POLICIES
Child Care Algoma has implemented the following policies for the safety of your children and our staff.
NEW POLICY 2.5.8 COVID VACCINATION POLICY APRIL 27,2021
2.5.1 PANDEMIC PLANNING REVISED ON APRIL 6, 2021
2.5.6 HEALTH AND ILLNESS PROTOCOL APRIl 6 ,2021
2.5.3 PERSONAL PROTECTIVE EQUIPMENT REVISED ON APRIL 27, 2021
2.5.4 ENVIRONMENTAL CLEANING & DISINFECTNG
2.5.5 EXCLUSION OF SICK CHILD AND ILL STAFF
2.5.7 PANDEMIC PLANNING COVID-19 CONSIDERATION
---
---
Children's Early Learning & Lifelong Success
Thank you for your interest in Child Care Algoma. We are a multi-service organization governed by a Board of Directors and managed by a strong team of professionals who have proudly serviced children and families since 1982. We offer a large variety of programs designed to enhance children's learning through high quality child care, early year's programs and parent and professional supports in the City of Sault Ste. Marie, Central Algoma and the North Shore.
---
---
BIENVENUE à Child Care Algoma - un endroit pour l'apprentissage des jeunes enfants et un succès permanent
Merci de l'intérêt que vous portez à Child Care Algoma. Nous sommes un organisme multiservices gouverné par un conseil d'administration et géré par une équipe forte de professionnels fiers d'avoir été au service des enfants et des familles depuis 1982. Nous offrons un éventail varié de programmes conçus pour mettre en valeur l'apprentissage des enfants par le biais d'une garde d'enfant de haute qualité, des programmes sur la petite enfance et d'un appui aux parents et aux professionnels de la part de la ville de Sault Ste. Marie, d'Algoma Central et de la Rive Nord.