Child Care Algoma EarlyON, Satellites, and Outreach programs provide opportunities for children to participate in play and inquiry-based programs, and support parents and caregivers in their roles. Parents and caregivers also have access to information about child development and specialized services as needed.
We are committed to strengthening the quality of the early years programs by ensuring they are centered on children, families, and educators. We build from the Foundations of Learning which guides our understanding of how children can successfully be supported through pedagogical practices. We nurture authentic relationships and connections to create a sense of belonging among children, adults, and the communities around them. Our programs nurture children's healthy development and support their growing sense of self. We spend quality time with families to ensure they understand that children's early experiences have a significant impact on their physical and mental health, and well-being. Our activities engage young learners to explore the world with their body, mind, and senses. These experiences engage children in active, creative, meaningful exploration, play and inquiry. We encourage children to become communicators who can express themselves in many ways and we foster this expression in all forms.
Our programs promote continuous learning and development through implementing curriculum in the five domains of learning. Pedagogical documentation of children's developmental levels are regularly done in order to identify current interests, needs and any developmental concerns.
Parent and caregiver participation is strongly encouraged. Research has proven that parents are their child's first and most important teacher. We value their participation and guide their understanding of the importance of early learning activities which are crucial to the extension of learning and optimal development of the child.
HOURS OF OPERATION: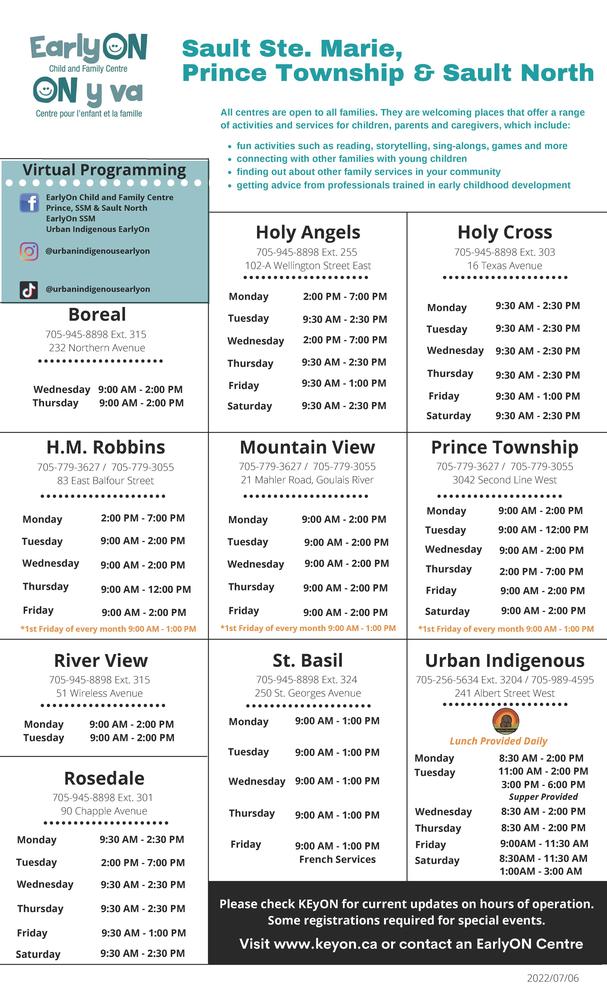 Services are free and welcoming to all.
Funded by the Ministry of Education
For more information please contact:
Program Coordinator: Diana Taranto
Phone: (705)945-8898 extension 248
e-mail: dtaran@childcarealgoma.ca