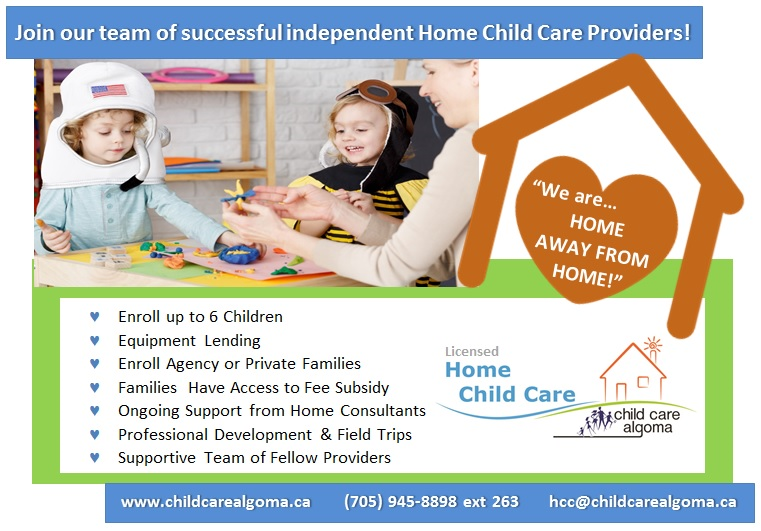 Becoming a Licensed Home Child Care Provider
Are you interested in a rewarding career caring for children in your own home?
Licensed Home Child Care is welcoming enquiries from committed and nurturing individuals, interested in establishing their own home based child care business.
Home Child Care Providers are self-employed and provide care in their own homes for up to 6 children from birth to 12 years of age under the license of Child Care Algoma and with the support of Home Child Care Consultants.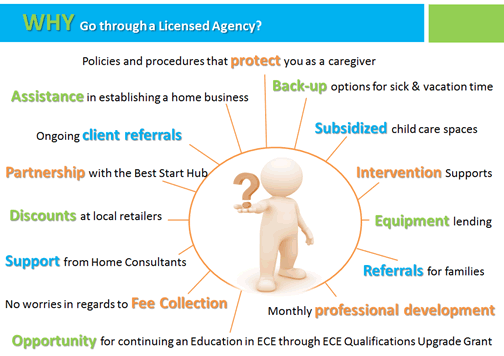 HOME CHILD CARE… is this the career for you?
Do you enjoy planning fun and stimulating activities for children?
Do you have toys and equipment for children?
Do you live in a "child friendly" home?
Would you be committed to providing a quality child care program?
Would you like to make a positive difference in the life of a child?
---
How can I become a Licensed Home Child Care Provider?
If you have answered yes, to the questions above, then becoming a Licensed Home Child Care Provider is only steps away.
Please call Alicia at 705-945-8898 ext 263 or Claire at 705-945-8898 ext 291
The start-up booklet and additional information will:
Provide information on starting and operating your home-based child care business

Help you design your personalized program

Answer many of your questions

Provide access to the many resources available.
Once you have reviewed the provider package, completed the Caregiver Application and attached your resume we are one step closer to beginning the 3 Step Approval Process! Every potential provider and those living in the home over 18 years of age must have a blemish free criminal record check (vulnerable sector).
3 Step Approval Process
This process is done at your pace, there is no specific time frame to complete it in. Our Home Consultants support you as you establish your home based business. Below you will find some key points we cover during the approval process; this is not a complete listing.
1st Visit:
Review Vulnerable Sector Checks
Review the Caregiver Handbook
Complete a premise evaluation
Review some policies and procedures
Provide documents to be posted
Provide health and safety resource from the Algoma Public Health
Review what must be complete prior to fire/health inspections
Discuss Insurance Requirements
2nd Visit:
Review the Alternate Caregiver Handbook
Provide samples of menus and curriculum
Equipment lending contract
Provide bulletin board (depending on availability)
Review cleaning/sanitizing policy and sample schedule
Review fire/health inspection reports
3rd Visit:
Complete Child Care and Early Years Act Highlights checklist
Fees for service contract
Provide the Using Your Home for Day Care – Revenue Canada document
Complete the Home Child Care Caregiver Agreement and additional policies and procedures
Issue the Home Approval Certificate
Following this 3 step approval process you will be an Approved Home Child Care Provider through our Licensed Home Child Care Agency and will receive your Home Approval Certificate as well as Approved by a Licensed Home Child Care Agency Signage.
Our Home Child Care Consultants are available to support you through this process. Please do not hesitate to contact us.
Discover if this is the Career for You!
---
Licensed Home Child Care Program
115 Shannon Road
Sault Ste. Marie, ON


Site Supervisor: Alicia Anich
Phone: (705) 945-8898 extension 263
Email: hcc@childcarealgoma.ca

Program Coordinator: Jennifer Parrella
Phone: (705) 945-8898 extension 250
Email: jparre@childcarealgoma.ca

Office Hours: Monday to Friday
8:30 a.m. to 4:30 p.m.